Competition results 2023
These are the results from the SNOBS Competitions in Kalmar May 2023.
Killer Whales
Grand Prix Winner Quartet & Mixed Quartet Champions
Highest total score of all competing quartets.
Northern Stars
Grand Prix Winner Chorus & Mixed Chorus Champions
Highest total score of all competing choruses.
Clementones
Youth Quartet Champions
Highest total score of all competing youth quartets.
WondAros
Most improved chorus
Biggest improvement of total score of all competing choruses.
Epitones
Most improved quartet
Biggest improvement of total score of all competing quartets.
Back On Track
Senior Quartet Champions
Senior quartet with the highest score.
ASKA
Women's Quartet Champions
BarbAros
Men's Chorus Champions
Stockholm City Voices
Women's Chorus Champions
SNOBS Convention Kalmar
May 18-20, 2023
We are more than ready to welcome you to a fantastic SNOBS Convention with contests for male, female and mixed groups. The contests will be held at Kalmarsalen, a great venue centrally located in Kalmar with a stunning view over Kalmarsund.
The contests will be judged by a double panel of BHS judges, making it the perfect place to qualify for BHS international contests.
We can't tell you how much we are looking forward to host you, sing with you, cheer for you and make new friends. As Kalmar is just a short train travel away from Copenhagen, we do hope to see friends from all over Europe at our event. Welcome!!
Order of Appearance
Looking for when your favourite groups competes?
Traffic Pattern
Looking for more details around traffic pattern, stage times etc.?
Special guests - Midtown Quartet
Based out of Manhattan NY, Midtown is a dynamic, international award winning vocal quartet that provides an entertainment experience capable of catering to multiple venues, audiences, and ages.  Well versed in a variety of styles; their high-energy show takes the audience on a ride that will leave them wanting more! 
Olle Nyman Memorial Show
Olle Nyman was one of the founding fathers of SNOBS back in 1980. He was instrumental in building the barbershop societies in the Nordics and when he passed away his immediate family started the Olle Nyman Memorial Fund to support education and further spread the artform of Barbershop in the Nordic region. 
This show is one of the highlights of the convention and the only show that is not included in the registration. Tickets cost 150 SEK and all money raised will go to the fund.
The show is on Friday May 19th at 20.00 CEST.
The following groups will perform:
Second place Men's chorus

Second place Women's Chorus

Second Place Mixed Chorus

Lemon Squeezy Quartet

Ambush Quartet

Midtown Quartet

Clementones
Masters of Ceremonies for the evening will be Anna & Henrik Rosenberg
Dinner and Afterglow tickets now available!
Secure your dinner ticket at our awesome convention dinners and parties! Meal/afterglow ticket sales ends on May 12th 23.59 CEST. If you only want to join for the party, admission only tickets are also available below.
Both dinners are buffet/mingle dinners – seating not guaranteed.
Thursday May 18th
Relaxed bar gathering at Hotell Witt. No food serving. Come and wind down after the competitions, relax, sing a few tags.
Time: 21.00
Venue: Hotell Witt large dining room
Price: Free entry

Friday May 19th
Time: From 20.30
Venue: Teatervallen, Olof Palmes Gata 1
Dinner & Admission: 225 SEK
Admission only (no food): 49 SEK
Mingle/buffet dinner:
Herb marinated chicken breast from Öland
Dry cured ham
Poached salmon
Potato salad
Marinated olives artichoke and chilli drops
Beets and feta cheese
Melon
Herbal creme
Salad, butter, bread
For everyone attending the Olle Nyman Show – food will still be available directly after the show.
Saturday May 20th
Time: 20:30
Venue: Kalmarsalen
Dinner & Admission: 295 SEK
Admission only (no food): 99 SEK
Mingel/buffet dinner:
Poached Salmon w/ soy, chili and ginger

Rice sallad

Lemon pearls
Live Entertainment from Nyfiken Gul + DJ from 22.00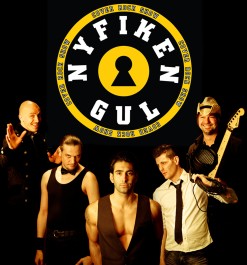 Webcast
All contest sessions and shows will of course be made available through our Live Webcast. Delayed viewing will be available for a limited time after the convention to give you time to view your favorites again and again.
You will be guided through the competition by our awesome team of webcast hosts, and between performances there will be interviews with contestants and special guests. The webcast is subject to a small fee.
SNOBS Membership
To compete at the convention you must be a member of SNOBS and also pay the convention fee (see below). One year of SNOBS membership costs 225 SEK for adults, 150 SEK for those under 26. Deadline for payment of membership fees is March 31st 2023. Please pay membership fees and convention fees separately. Mark the payment with the name of the group (chorus or quartet) and "SNOBS Membership". Payment details below:
Payments within Sweden
 Bankgironummer 5758-5697
International payments
IBAN number: SE0250000000056091116053
Bank: Skandinaviska Enskilda Banken
BIC/SWIFT: ESSESESS
Payment receiver: SNOBS, Mårtensgatan 21, 252 69 RÅÅ, SWEDEN
Please see below for convention/participant registration and convention fee. 
Event Tickets & Convention Registration
Tickets to individual events and convention registrations can be purchased here.
Accomodation – Official SNOBS Convention Hotels!
For SNOBS convention rates make sure to book one of the official convention hotels using the booking codes below. The two hotels are conveniently located within minutes of each other. Please see each hotel for booking information.
Kalmarsalen
The Convention arena is Kalmarsalen, Skeppsbrogatan 49 in Kalmar. Beautifully located just by Kalmarsund. Click here for additional information about the venue.
About Kalmar
Kalmar is a rather small city in the southeast of Sweden, situated by the Baltic Sea.
From the thirteenth to the seventeenth centuries, Kalmar was one of Sweden's most important cities. It became a fortified city, with the Kalmar Castle as the center. After the Treaty of Roskilde in 1658, Kalmar's importance diminished as the Danish borders were redrawn further south, until the industry sector was initiated in the 19th century.
The area around Kalmar has been inhabited since ancient times. Excavations have found traces of Stone Age gravefields. However, the oldest evidence for there being a town is from the 11th century. The oldest city seal of Kalmar is from somewhere between 1255 and 1267, making it the oldest known city seal in Scandinavia.
Get in Touch
Need to get in touch with anyone in the SNOBS convention commitee? Questions, thoughts or suggestions? Just fill out the form and we'll get back to you as soon as possible.